Monksland
Athlone, Co Westmeath,
Ireland
Contact:
Fidelma Callanan
Sr. Director Marketing and Commercial Development
Phone:
+353 90 649 5126
Fax:
+353 90 649 5807
Website:
Email:

Four decades delivering contract pharma solutions for our partners

Alkermes Contract Pharma Services provides solid dosage form product development, scale-up and manufacturing services along with sterile fill-finish capabilities to the global pharmaceutical market. We have a long and successful history in the development and manufacture of pharmaceutical dosage forms for pharmaceutical markets worldwide. We have a blue chip list of partners and have assisted in the successful launch of multiple products in more than 100 countries in North America, Europe and Asia.



Extensive development, scale-up and manufacturing capabilities in U.S. and Europe

We offer a complete range of pharmaceutical development and manufacturing capabilities to support your requirements including effective, robust and swift tech transfers, a full selection of proven and validated technology and process improvement solutions including those for high potency product development and manufacturing, competitive pricing, on time delivery with an exceptional compliance track record in FDA/EMA licensed sites in U.S. and EU. Since we began pioneering drug development solutions for the pharma industry, over 40 years ago, we have assisted in the development and launch of over 40 products in the U.S. and International markets.



Modern Facilities to fit Partners Precise Product Requirements

Alkermes Contract Pharma Services offers a significant advantage in outsourcing – a broad range of services and expertise integrated into one company – based in the U.S. and Europe. This approach reduces the need for technical transfers from product development and clinical trial suppliers to commercial manufacturing sites, enabling efficient scale-up from development to commercial production. By providing the whole process in this integrated manner, we have been able to recommend ways to improve production methods – reducing partner risk and also improving efficiencies.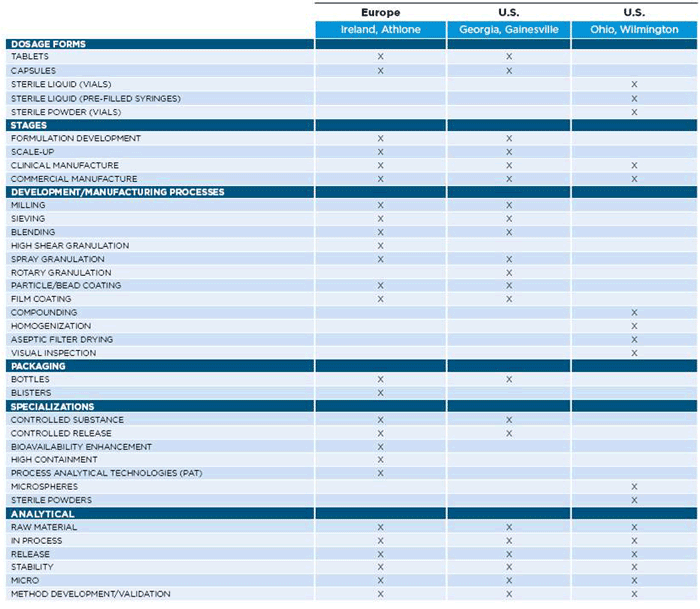 Contract Services Directory