Eywiesenstrasse 5
88212, Ravensburg
Germany
Contact:
Oskar Gold
Vice President Key Account Management & Corporate Marketing
Phone:
+49 751 3700 0
Fax:
+49 751 3700 4000
Website:
Email:

Vetter is a leading contract development and manufacturing organization (CDMO) that specializes in the aseptic filling of syringes, cartridges and vials. The company has extensive experience with biologics and other complex compounds, including monoclonal antibodies, peptides, interferons and vaccines. Collaborating with pharma/biotech clients worldwide, Vetter supports products from preclinical development through global market supply. Through its U.S. and European facilities, Vetter Development Service provides state-of-the-art support for early-stage products, with seamless transfer at Phase III to Vetter Commercial Manufacturing for large-scale production. The company offers state-of-the-art technology and innovative processes to promote product quality and maximize API yield.
Resources for every stage of growth.
Vetter's full portfolio of services includes dedicated resources for both clinical development and commercial manufacturing. In addition, we provide expert packaging technologies and solutions tailored to your product's specific market needs: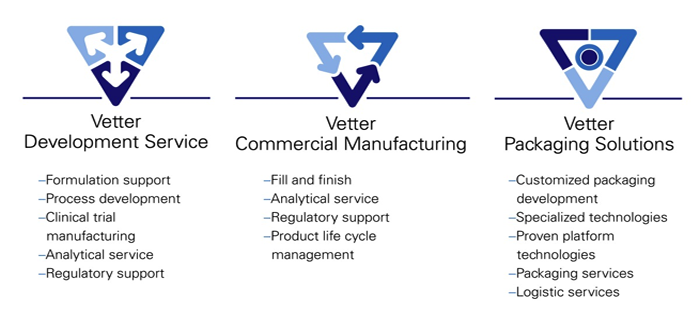 Vetter Development Service (VDS) supports your drug-development projects, from inception to market launch. Our Chicago facility, along with our existing sites, provides clinical manufacturing from preclinical development through Phase II, with scale-up and transfer to our commercial manufacturing facilities. The Chicago site is the first to use Bosch's new fully automated vial filler, designed specifically for early-stage, high-value biopharmaceuticals. VDS fills clinical trial materials under strict aseptic and GMP standards. Thanks to state-of-the-art technology and innovative processes, we help increase your API yield.
Early planning can help save costs: Together, we work with you to develop the appropriate delivery system for your drug, starting in early development. In addition to matching all components to your product's specifications, we replicate commercial manufacturing processes in our laboratories, which can prevent surprises when your drug reaches market production. Once products reach Phase III, we provide seamless transfer to our large-scale manufacturing facilities in Europe for late-stage and commercial production. Simultaneous activities, coupled with expertise and foresight, reduce time to market. To help prolong your success, Vetter also offers support on product lifecycle management, which ideally begins in the preclinical phase and becomes an integral part of the drug development process.

With the trend toward prefilled syringes showing no signs of stopping, is sole drug development in a vial still the right option? If your goal is to ultimately offer your drug product in a prefilled syringe, you should consider including syringe development earlier in the process, rather than just prior to launch.
Why? Syringes offer advantages during both clinical and commercial phases:
• Increased clinical trial appeal of a user-friendly system
• Less waste of valuable API while meeting precise dosing requirements
• Enhanced patient compliance and consistency
• Product differentiation in a competitive marketplace
To learn more about syringe development and how we can help streamline your path to market as well as accelerate your success, simply read on
Get the latest Vetter News and Subscribe to our newsletter
Subscribe today!
US Inquiries:
Vetter Pharma International USA Inc.
Illinois Science + Technology Park
4901 Searle Parkway, Suite 300A
Skokie, IL 60077
Phone: +1-847-581-6888
Fax: +1-847-581-6880